As a realtor, I need to be knowledgable on a wide range of topics.  With each house that I show, I get questions about things like gutters and furnaces all the way to decorating suggestions and space optimization.  The longer any realtor is in the business the more he or she can help their clients, but it is difficult at first to have all of the answers.  Many clients don't realize that realtors don't always know everything about a house and it is not in the job description to be able to explain how a sprinkler system works.  However, many realtors take their jobs very seriously and study up on such topics so that they can be the best in the business.
Over the years I have invested a lot of time learning about anything and everything that goes on in a home.  I now have a pretty good knowledge base on foundations, roofs, landscaping, load-bearing walls, heating and cooling systems, and even pet-friendly floors.  My most recent learning adventure is interior design, and more specifically window treatments.  It seems like I have had a great deal of questions recently about window and lighting options in different spaces.  Perhaps the summer season creates more lighting and temperature questions, so I decided to expand my knowledge on shades, blinds, drapes, and anything else involved in window dressings.  As with everything I continue to learn about, there are a lot of options out there for clients.  In my research process I learned a few things about the window treatment services themselves, like what should be offered and what brands are the best.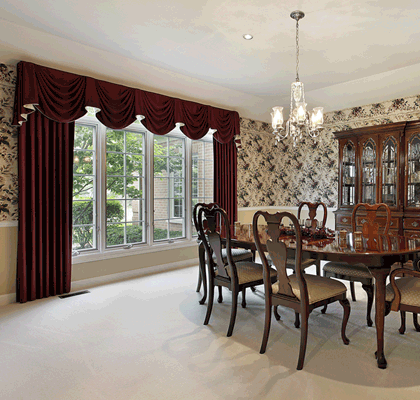 Whether you are a realtor or a customer, you should ideally look for a window treatment service that has an actual house as the showroom so that you can see real life scenarios for each of their products.  This is a great way to gain some ideas if you're not sure where to start with your own windows.  A realistic setting that allows you to touch, feel, or otherwise interact with different shades, blinds, drapes, and more is the perfect shopping situation.  And of course there are designers on hand to make suggestions and answer your decorating and operating questions.  I visited many showrooms in my area to get some design ideas and to learn about how certain systems work.  There are complex shades and blinds that can be customized to any window shape or style with remote battery controls or hidden sliders.  On the other end of the spectrum, some clients migrate toward simple drape and cornice combinations that give style to windows without too much maintenance.
I have learned so much about different options in the window treatment world that I now have a great knowledge base to offer my clients.  With each house I show I prepare a few design and treatment type suggestions so that the buyers can see themselves in the space more easily.  And now that I have spoken with so many designers and treatment consultants around town I know who to refer my clients to when they ask.